River to River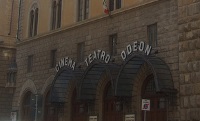 The Odeon Cinema © Haydn Blackey
Florence's Indian Film Festival is the first festival in the world entirely devoted to films from and about India. River to River features a collection of independent Indian movies, as well as the latest productions focusing on India by directors from all over the world.
The films screen in their original language with English subtitles. Held annually at the Odeon Cinema, the audience votes for winners in the different categories. The winners receive the River to River DigiChannel Audience Award.
First held in 2001, it rode a wave of interest in Indian cinema and Bollywood influence on blockbuster films. Many filmmakers, actors, and producers attend, and its popularity and success has led to a Rome edition over the last few years.
The River to River Florence Indian Film Festival may seem an odd sort of cultural collision but the festival is well-run, well-supported, and entertaining. It's a treat for anybody interested in Indian film or culture.
Venue: Odeon Cinema, Piazza Santo Spirito
Date: 3 - 8 December 2020
Website: www.rivertoriver.it