Florence Tango Festival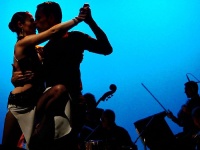 The passion of the Tango © Ana_Cotta
Each year, the Florence Tango Festival welcomes top dancers from across the globe to Florence's Saschall Theatre, where art exhibitions, shows, workshops, dinners, and tango classes inspire locals and tourists alike. Channel your inner Latin lover with a tango class, impress your date, or simply learn more about the fascinating art of tango.
The tango lessons are divided into six different skill levels accommodating beginners and experienced dancers. Lessons can only be taken in couples. But if you don't have a partner, the organizers make every effort to help find you a partner suitable to your skill level.
There are a number of different festival packages ranging from participation in a single lesson to the full extravaganza with nine lessons and all social events and shows included. Check out the official festival website listed below for information on the events, a workshops programme, and registration details. The Florence Tango Festival is fun and energetic and a great way to meet people and learn some new skills in a friendly and inspiring environment.
Venue: Saschall Theatre
Date: TBC 2020
Website: www.firenzetangofestival.com