Rock n Roll Las Vegas Marathon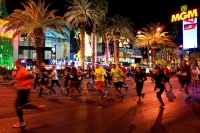 Rock n Roll Marathon © Travis Wise
The Rock 'n' Roll Las Vegas Marathon takes place along the Strip where runners can enjoy the sights and sounds of Sin City, and spectators get into the swing of things with live entertainment, including music, cheerleaders, and Vegas-inspired fanfare.
Runners and spectators alike can expect a high-energy run and afterparty which channels the wild spirit of Vegas. The half marathon has a wave start, allowing runners plenty of elbow room to enjoy the run and the sideline entertainment along the way.
For more details check out the official website listed below.
Venue: Start and finish at Mandalay Bay resort and Casino
Date: 16 - 17 November 2019
Website: www.runrocknroll.com/las-vegas