Edinburgh International Science Festival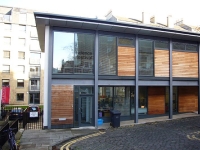 Edinburgh Science Festival Offices © John Lord
Every Easter, the city of Edinburgh becomes a gigantic laboratory of discovery, exploration, and entertainment. Non-stop shows, demonstrations, hands-on activities, workshops, and exhibitions are presented to educate and enthral people all ages.
The Edinburgh International Science Festival is designed to encourage discovery about the sciences and a variety of exciting subjects including outer space, our planet, the inner body, and modern gadgets and technology.
Kids can feed their curiosity through a number of interactive exhibits and experiments. Meanwhile, adults can explore the chances of the survival of the human race in the 21st century, getting up to date on important scientific advancements and discoveries.
Edinburgh's Science Festival is one of the largest of its kind in Europe and should prove fun for everyone. There is also a Gastrofest, a mini food festival within the science festival which celebrates Scottish cookery and traditional dishes and explores the general science of food and drink.
Venue: Various.
Date: 4- 19 Apr 2020
Website: www.sciencefestival.co.uk