Spring Break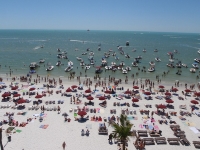 Spring Break at Fort Myers Beach © Beachfront Solutions
The notion of students misbehaving a little during their time away from their books is not unique to the USA. However, the annual wild partying of American students over Spring Break is something that visitors to Florida, especially those travelling with children, should prepare themselves for.
Ever since the 'Fort Liquordale' days of the 1980s, Florida has been a notoriously popular destination for Spring Break revellers. These days, the presence of MTV film crews and internationally-renowned performers on the Sunshine State's beaches only adds to the party atmosphere.
Although Fort Lauderdale, Daytona Beach, St Petersburg, and Miami's South Beach draw thousands of students, Panama City Beach has become the new epicentre with about 400,000 spring breakers expected every year. Love it or hate it, visitors should prepare themselves for Florida's transformation to party central.
Venue: Various beach areas and resort towns around Florida
Date: Between February and April annually