Juke Joint Festival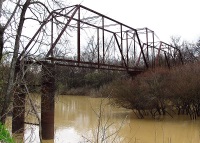 The banks of Sunflower River © Richard Apple
Without Clarksdale, Mississippi, there'd be no such thing as the Delta Blues. The Juke Joint Festival, held annually in this charming little town on the banks of the Sunflower River, is all about celebrating the wonderful musical heritage passed down by greats such as Son House, Robert Johnson, and Skip James.
Half small town fair and half blues festival, it does more than simply entertain attendees: it aims to educate and enlighten locals and blues tourists alike through a series of performances, exhibits, and presentations involving music, art, storytelling, film, and children's events. Don't miss this opportunity to learn more about one of America's great cultural assets and, of course, to listen some authentic, down-home playing while you're at it!
Venue: Clarksdale, Mississippi.
Date: 18 April 2020
Website: www.jukejointfestival.com