The Flower Fields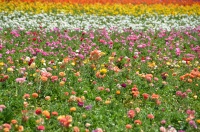 The Flower Fields at Carlsbad Ranch. © RobBertholf
Every March and April, San Diego enjoys the Flower Fields at Carlsbad Ranch as they blossom into bright ranunculus flowers, drawing over 100,000 visitors and lovers of flowers from across the globe every year.
Located only 30 minutes north of downtown San Diego, the festival offers tours of the fields and also provides opportunities for nature enthusiasts and photographers. There are tractor-driven wagon rides to enjoy and a 1,500 square foot greenhouse which houses the world famous Ecke poinsettias.
There is also a sweet pea maze and various themed gardens to enjoy, making the Flower Fields a great place to bring the family and enjoy a beautiful day of flower-gazing, picnicking, and great sunny weather.
Venue: Carlsbad Ranch, 5704 Paseo del Norte Carlsbad, CA
Date: March and April annually
Website: www.theflowerfields.com