Doo Dah Parade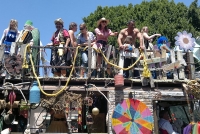 Doo Dah Parade Float © Al Pavangkanan
Known as the 'other' parade, the Doo Dah Parade began as a parody of the Rose Parade. Where the latter had a list of rules and regulations and invited performers, the former decided to exult in the opposite with no theme, no judges, and no commercials.
Every year, thousands of marching groups and acts travel through the streets in a colourful procession of humour, eccentricity, and mayhem. They do almost anything they please and attract enormous crowds of spectators along the route.
Entries are unusual and entertaining, and have included Dead Rose Queens, The Spawn of Captain James T. Kirk, the Royal Doo Dah Orchestra, the Invisible Man Marching Band, Caesar's Circus, BBQ and Hibachi Marching Grill Team, and Bungee Barbies, among others.
Venue: Old Town Pasadena
Date: TBC 2020
Website: www.pasadenadoodahparade.info