Glasgow International Comedy Festival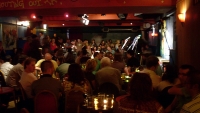 Glasgow Comedy Festival © Tom Brogan
Now more than a decade old, the Glasgow International Comedy Festival is the largest festival of its kind in Europe. The festival attracts bigger crowds every year, showcasing the best of local comedic talent as well as some of the biggest comedians worldwide.
The festival programme now includes more than 350 shows in 40 venues around the city, including the Citizens Theatre and the Kings Theatre. The festival is about more than just stand-up comedy, featuring a great variety of entertainment spanning all forms of comedy with something to suit all tastes and ages.
There are live stand-up shows by some of the biggest names in comedy, as well as character acts, political satirists, classic family variety acts, children's entertainment, workshops, screenings of comedy film classics, and theatre productions.
Every year, the full programme is released early in the year and it's a good idea to book a few months in advance to avoid disappointment, particularly for the most popular acts. It is also recommended that accommodation is booked well in advance for those visiting during the Glasgow International Comedy Festival. Check the official website for details.
Venue: Various
Date: 23-25 March 2020
Website: www.glasgowcomedyfestival.com