Highland Games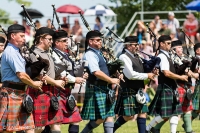 Highland Games © Angus Chan
A truly Scottish experience, the Highland Games that take place between June and September each year should feature in all travel itineraries. The first Highland Games were held more than a thousand years ago, prompted by clan chiefs and kings. Events served a variety of sporting, martial and religious purposes. The Clan Chiefs used the games to recruit people; race winners made good messengers at a time when there were no proper roads, the strongest men were employed as bodyguards and the pick of the dancers and pipers were also chosen as entertainers.
Men of the villages and parishes gathered annually; on what was often their only holiday, to test their strength and ability against each other using the 'tools' of their trades. Hence throwing hammers, putting rounded stones, lifting heaving weights and tossing tree trunks (tossing the caber) became the order of the day. Playing bagpipes and dancing were both incorporated into proceedings to give warriors heart for battles or to celebrate victories. Today all the same events take place, but it is all for entertainment and visitors are welcome to join in many of the competitions.
Most towns in the Highlands hold their own games, some are larger than others, but all have the same friendly village fete atmosphere and are entertaining for adults and children alike. The cities of Inverness and Aberdeen both host wonderful Highland Games.
Date: July to September annually