Midsummers Eve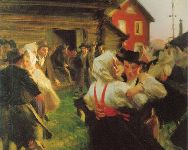 Midsummers eve painting © Creative Commons
Sweden's most beloved of festivals, Midsummer's Eve is celebrated around the country with great gusto. In Stockholm, thousands enjoy the festivities laid on at the Skansen open-air museum, which centre around the raising of a garlanded maypole. Dancing and singing around the maypole is spurred on by the consumption of plenty of schnapps and beer, although the festival is also greatly enjoyed by children and is an affair for the whole family.
The festival has its roots in ancient, pagan fertility rituals, but for modern Swedes it is an excuse to enjoy a merry party as they emerge from the long, dark winter. Many locals migrate out of the cities and towns for Midsummer celebrations, seeking out festivities in the countryside. Flowers and ribbons feature prominently and there are many traditional songs and dances to enjoy. Those who buy into the stereotype about Swedes being dull and serious should visit the country during Midsummer's Eve to see how much fun they can have! Midsummer celebrations tend to last for a few days. Although it is not officially a public holiday Midsummer's Eve is widely celebrated throughout Sweden and many shops and businesses close for the day.
Venue: Skansen Museum.
Date: 22 June 2019