Helsinki City Marathon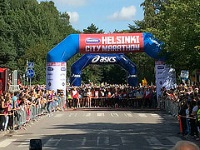 Helsinki Marathon © Esko Kurvinen
Finland's popular annual Marathon event attracts thousands of runners from around the world, most probably because the race follows a particularly scenic course along the coastline in and around Helsinki. The race is run in summer but the sea breezes are generally the perfect accompaniment to the marathon as they keep participants cool. There is also a children's race on the same day which is great fun for spectators and little ones supporting their parents.
There is a festive atmosphere in Helsinki for the race which draws crowds of spectators. If you have the stamina, this is a glorious way to explore Helsinki! The marathon, like all races of its kind, is 26 miles and 385 yards (42.195km).
For those interested in Finland's running events there is also the popular Helsinki City Run, Finland's largest half marathon, which takes place on the same day. For more information on all running events in Finland check out the website.
Venue: The marathon starts and ends at the Olympic Stadium
Date: 16 May 2020
Website: www.helsinkicitymarathon.fi/en