Oxford and Cambridge Boat Race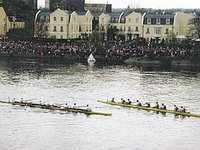 The Boat Race ©
An annual tradition since 1829, the rowing race between two of Britain's oldest university sides creates a festival atmosphere along the banks of the Thames between Putney and Mortlake. Thousands of people gather at various vantage points along the riverbank, many of them conveniently close to pubs.
From here, spectators can watch the famous four-and-a-quarter mile race that marks the beginning of the English social season. This famous sporting event is a huge thrill to witness and also a big party for spectators. Naturally, the students of Oxford and Cambridge come out in force to support their teams and the rivalry is epic, though good-natured.
Venue: Thames River from Putney Bridge to Chiswick Bridge.
Date: TBC 2020
Website: www.theboatrace.org