Sowebo Arts and Music Festival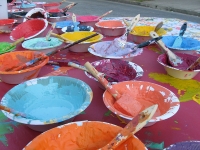 SoWeBo Arts Festival © rashida s. mar b.
For more than 20 years, the Sowebo Arts and Music Festival has been held every Sunday of the Memorial Day weekend. Coined a 'topsy turvy excursion into art and music', the festival presents Baltimore's largest music venue (over 40 bands), a sizeable non-juried art exhibit, puppet shows, glass blowing demos, outdoor sculpture, kid's art, and fun. The aim is to 'foster community development through the promotion of art and music' by showcasing the talents of neighborhood artists, musicians, and working professionals. The festival has grown to incorporate various arts events throughout the year, with concerts and exhibitions held at galleries and other venues around Baltimore. But the flagship Sowebo Arts and Music Festival is still held in May.
Date: 24 May 2020
Website: www.soweboarts.org