Japanese F1 Grand Prix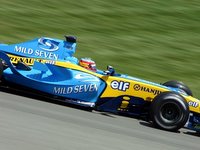 Grand Prix © Ripounet
The Japanese Grand Prix usually falls towards the end of the Formula One season and has over the years provided much excitement, and often been the track to crown the season's champion. About 13 World Champions have been crowned at the Japanese event.
The Fuji Speedway hosted the first two Japanese Grand Prix in 1976 and 1977 before the country was taken off the F1 calendar. When it was reinstated in 1987 it was at the Suzuka track, which hosted it with great success for the next 20 years and fast gained a reputation as one of the most challenging F1 circuits. The two circuits alternated hosting the event until the Fuji Speedway announced it would not be hosting the 2010 race due to the recession. The Suzuka track now holds the event exclusively.
The Japanese Grand Prix is very well-supported by locals and foreigners alike and, like all the races, is extremely thrilling for spectators. Many F1 fans travel around the world to attend races and the atmosphere is festive; if a World Champion is crowned the ceremony adds extra excitement and there are raucous after-parties to enjoy.
Venue: Suzuka Circuit
Date: 8—10 October 2021
Website: www.formula1.com