Traditional Greek Dance Festival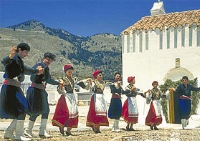 Traditional Greek Dancing © Erno Verhoeven
Nothing demonstrates the warmth and energy of Greek people as well as their traditional dance. Travellers visiting Athens can catch performances on most summer nights at Dora Stratou on Philopappou Hill.
Established by Greek folk expert, Dora Stratou, the lovely theatre quite rightly describes itself as 'the living museum of Greek dance', where traditional folksingers and musicians accompany the dancers in a charming garden theatre that seats up to 800 people. It's a great place to spend a hot night in Athens.
For visitors who want to learn more about the dance and folk traditions on show, the theatre also doubles as a school offering courses, lectures and workshops on Greek dance, embroidery and culture.
Venue: Dora Stratou Theatre
Date: Most summer evenings