Rockwave Festival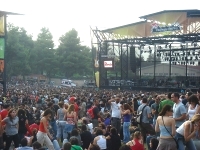 Rockwave Festival © Thaliapap
Since its inception in 1996, Athens' Rockwave Festival has become one of Europe's most popular live-rock-music events and continues to draw the hottest performers and an enthusiastic crowd of tens of thousands.
The annual festival takes place over three days and features three stages, where visitors will find metal, rock and dance music respectively. Past performers include big names such as Ozzy Osbourne, The Prodigy and Machine Head.
The well-organised festival has kiosks that work as meeting points, bulletin boards and helpful staff on permanent duty. Fans will find first-aid stations plus loads of food and drink options, though they'll have to pay through the festival's coupon system rather than cash. Sponsors run leisure areas where there are games and activities.
The venue is in the scenically marvellous and protected Malakasa area, so fans are urged to avoid littering, and to respect the natural surroundings.
Venue: Terra Vibe, Oropos
Date: 6 June 2020
Website: www.rockwavefestival.gr