Holi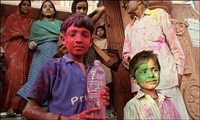 Festival of Holi ©
Also known as the Festival of Colours, this ancient Hindu celebration is becoming increasingly popular all over the world as a secular festival commemorating community, life, and colour. Holi has always marked the coming of spring and the end of winter, as well as the fertility of the earth.
As 80% of the population is Hindu, it serves as an important religious day in Nepal. Indeed, it's one of the most important and popular days in the country, serving as a national holiday often enjoyed communally even by Muslim and Christian minorities.
Traditionally celebrated with bonfires and playful water and paint fights using balloons and powdered paint. It's a jubilant, life-affirming party and its popularity is evident in its adoption by non-Hindu cultures appreciating its symbolism.
Foreigners will usually be enthusiastically welcomed, with Holi being a special time to be in Nepal. In fact, it's difficult to stay dry and normal-coloured, so tourists should be careful with cameras even though photographic opportunities are visually splendid.
Venue: Various venues throughout the country
Date: 9-10 March 2020