Montreux Jazz Festival Morocco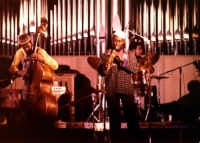 Jazz musicians © Einar Einarsson Kvaran
Celebrated in the stunning setting of La Ménara and the Bahia Palace in Marrakech, the Moroccan version of the Montreux Jazz Festival combines all the memorable elements of this classic event. Workshops, acoustic concerts and the famous Montreux Jazz Club are all prepared to entertain casual visitors and jazz lovers alike.
The original event is held on the eastern shore of beautiful Lake Geneva in Switzerland and attracts around 200,000 people each year. Specialising in jazz, blues, rock and pop, the festival provides groove-busting beats that make you want to move your body or just listen in musical awe. The Montreux Jazz Festival has hosted the likes of Stan Getz, Nina Simone, Ella Fitzgerald, Charlie Mingus, and Dexter Gordon since its inception in 1967, and every year leading artists in their respective genres are showcased. Pop and rock icons like Sting, Leonard Cohen and Prince have also performed, proving that you don't need to be a jazz fanatic to enjoy this amazing festival.
The Moroccan event is not yet as big and famous as the flagship festival but it is steadily growing in popularity and prestige and attracts many international visitors. See the official website below for details.
Venue: Bahia Palace
Date: 3 - 18 July 2020
Website: www.montreuxjazz.com