Sidari Travel Guide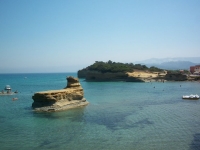 Sidari © C messier
Located on the north coast of Corfu, Sidari is known for its long, sandy beaches, lively tavernas, bars and nightlife. Many holidaymakers stop at the village's small, romantic beach cove called Canal D'Amour. Locals say the area's bathers will find love.
Visitors will find plenty of shopping along the main strip, with many souvenir shops selling quality merchandise. The island is noted for its gold and silver jewellery, leather goods, painted ceramics, and olive-wood items.
Sidari has many restaurants offering a wide variety of food. A number of the most popular restaurants are on the beachfront. Visitors will find both authentic Greek fare and Western staples.
Sidari has a range of bars and nightclubs. Visitors can expect lots of action, particularly during the peak tourist season.
Holidaymakers will find most watersports in Sidari. Boats are also available for hire. From a touring perspective, visitors can arrange trips to nearby islands like Paxos and Erikoussa, as well as a coach trip to Albania. Buses depart regularly for Corfu Town and Aqualand Water Park.
---
Sidari's main strip can become quite noisy due to bars and clubs closing late. Also, the area's lack of cultural and historical attractions dissuades many visitors.