Hania Travel Guide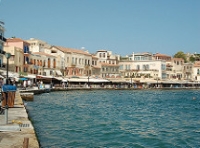 Hania © Gorka Palazio
Beyond being the largest city in western Crete, Hania (Chania) is also one of the most attractive. Its small harbour and labyrinth of Turkish and Venetian buildings never fail to charm visitors. Colourful markets and exquisite cuisine add more dimensions to a fantastic Greek holiday destination.
Shops, cafes and tavernas line narrow, winding lanes, which lead to delicate stonework, white Orthodox churches and other photographic opportunities. Parts of the old city walls and buildings have also been excavated. Visitors can enjoy them during walks around town.
Hania's port area is the oldest and most interesting locale. Holidaymakers will find its many bars and restaurants busy at night. The city's few museums are certainly worth visiting for history buffs, while hikers must venture through the famous Samaria Gorge.
Holidaymakers should visit Hania's Municipal Market for good dining and souvenirs, and the famous Leather Street (Stivanadika) for leather items. Otherwise, shoppers will find many craft and jewellery establishments around the city.
Visitors will find many cafes, tavernas and restaurants around the harbour. The city also has a number of traditional establishments in the market area.
Hania has a number of clubs, with some quietly gay-friendly options.
Hania has many good museums, with the Maritime Museum standing out. Visitors can also enjoy day trips to Crete's myriad attractions. Gorgeous sand and pebble beaches offer sun, surf and relaxation. Otherwise, visitors will enjoy wandering along the quaint city's narrow streets.
---
The pavements in Hania are very narrow, making strolling along the streets a bit hazardous.
What to see in Hania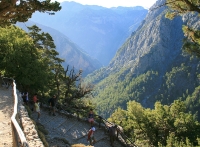 The Samaria Gorge National Park, in the White Mountains of western Crete, is said to be one of the most splendid scenic parks in Europe and the hike through the gorge is breathtaking. It is an arduous…

read more