Rethymnon Travel Guide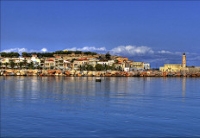 Rethymnon © Romtomtom
Culture lovers will appreciate Rethymnon's old town, with its winding alleys, flower-bedecked balconies and architectural inheritance. History buffs may recognise Turkish and Venetian influences. Fortunately, tourist development hasn't hurt the area, meaning visitors can still soak up its mood at tavernas and souvenir shops, or while strolling. Sun chasers will find one of Crete's longest sandy beaches to the east. Excursions are easily made to Heraklion, Hania or the monastery of Arkadhi.
Rethymnon has a great many gift shops geared towards holidaymakers. Souvenirs include baskets, pottery, woodcarving and woven goods. Visitors can find Cretan embroidery at Haroula Spridaki, and various items carved from olive wood at the aptly named Olive Tree Wood.
Palaiopoleiou offers genuine antiques and old textiles. Shoppers interested in modern ceramics and Greek pottery should try Omodamos. Numerous general stores and mini supermarkets service self-caterers.
Rethymnon's inner harbour sports an array of restaurants and fish tavernas. Pricing varies. Visitors will find some old-fashioned cafes around Rimondi Fountain.
Rethymnon's nightlife ranges from noisy pubs and bars, to more relaxed establishments, where holidaymakers can listen the sea while sipping on their favourite drinks.
Daily boat excursions are the most popular activity in Rethymnon. They take holidaymakers to beautiful beaches, and usually include lunch at a local taverna. Visitors can also enjoy hiking and horseback riding. Sights within the city include the mosque of Sultan Ibrahim Han, and the Venetian fortress.
---
Rethymnon doesn't have the ruins and archaeological sites many holidaymakers expect in such an old city.
What to see in Rethymnon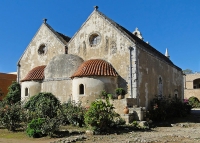 Situated about 14 miles (23km) south of Rethymnon, the Monastery of Arkádhi is something of a national Cretan shrine. During the 1866 rebellion against the Turks the monastery became a refuge…

read more