Lindos Travel Guide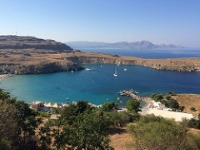 Lindos © tracy the astonishing
Lindos was once the island's capital. Today, it's essentially a holiday resort centred on a small, medieval village. Visitors typically enjoy the area's cobbled streets and white-stuccoed houses. All told, Lindos has lots of character and a pleasant combination of ancient and modern attractions.
A series of steps lead up to the Acropolis. Inside, visitors will find the Doric Stoa, propylaean ruins, the sanctuary of Athena and the Byzantine church of St John.
Apart from these historic gems, Lindos boasts some of the few sand beaches on the island, plus a number of, bars, clubs and restaurants.
Lindos is a labyrinth of winding, picturesque streets, where visitors can get happily lost for hours browsing quaint little shops. Indeed, this area is great for souvenir shopping. There are also some simple resort stores catering to tourists.
Lovely rooftop restaurants and bars characterise the town's dining scene. Visiting such an establishment is a must during sunset, when Lindos at its most beautiful. Restaurants cater to a number of tastes and budgets.
Lindos has many bars, though the party scene is tone down. Visitors who prefer peaceful, music-filled nights will enjoy themselves.
The area's beaches are lovely, with lots of watersports available for the energetic. Culture lovers will find plenty of historical and archaeological attractions.
Regarding highlights, travellers can visit the fascinating Acropolis, as well as an ancient theatre's ruins on the slope below. Wonderful day-trips are on offer too.
---
Youngsters set on partying may be disappointed by the fairly sedate nightlife. The area can get very crowded in summer, like all popular Greek resorts.