Koh Lanta Travel Guide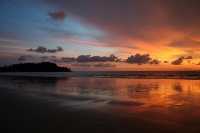 Koh Lanta © Steven Belcher
Koh Lanta is a popular resort area in southern Thailand. Consisting of two islands, Koh Lanta Yai and Koh Lanta Noi, pretty much all of the tourist development is on Koh Lanta Yai, often referred to as simply Koh Lanta.
The island is a great place for travellers looking for a beach holiday away from the parties and crowds of Phuket, and is popular with slightly older tourists who populate the resorts and bungalows that line the beaches.
There are plenty of things to see and do on Koh Lanta, including exploring the Khao Mai Kaew Caves on foot or elephant-back, visiting the orchid nursery farm at Long Beach (Pra Ae Beach), and sunning on the beaches of Klong Dao, Kor Kwang, and the beautiful Kantiang Bay. Visitors can also get a taste of the culture of Koh Lanta by visiting Lanta Old Town and the Sea Gypsy Village.
Koh Lanta is not as popular with shoppers as perhaps Bangkok or Phuket, but all the essentials you need and more are available on the island. The most popular shopping spot on the island is the night market near Saladan pier. This market sports everything from locally made clothes to delicious treats out of a hot wok and everything in between. Many cafés and small shops cater for quick purchases and street vendors are popular around the pier for curios and trinkets. So although not the best place to shop in Thailand, Koh Lanta does have what you need and the odd bargain on locally produced goods.
A fairly large island compared to many of the southern Thai outcrops, Koh Lanta has a good variety when it comes to restaurants. From the luxurious eateries in the top resorts, to the lonely street vendor operating from their mobile cart, the food around Koh Lanta is delicious no matter the location or facility. It seems that everyone is a chef on Koh Lanta, as around every corner one finds a sizzling wok cooking beautifully fresh ingredients or blending together some of the islands freshly picked mangoes, banana and coconuts for a brilliantly refreshing smoothie on those scorching tropical days. But Koh Lanta is not all about the street food, although it is almost always surprisingly good and remarkably cheap. The island also offers some very fine eateries serving up both wonderful local and international cuisine. And the best thing about a good restaurant on Koh Lanta is that the view is more often than not a breathtaking vista of the bright blue Andaman Sea and to top that, Lanta is known for its glorious palm fringed sunsets of bright pink, red and orange.
As a more 'family friendly' island of Thailand, Koh Lanta is not known for its all night raves like its near neighbour Koh Phi Phi. This does not mean, however, that Koh Lanta does not have any nightlife to speak of whatsoever. On the contrary, many of the beaches, including Phrae Ae (Long Beach) and Klong Dao are lined with seaside bars which serve as perfect spots for a sundowner to watch the magnificent Koh Lanta sunsets and often begin to come to life after dark. If one is looking for more of a club scene, Saladan Pier would be a good bet and various places along the northwest coast of Koh Lanta. So although the island id not renowned for a crazy nightlife, Koh Lanta actually has some very good pubs and bars, with the odd club to cater for the early hour dance moves that may be in your repertoire.
Koh Lanta is a great island for a fun, activity filled holiday, with something for everyone. With many beautiful beaches scattered around the island, from the popular Phrae Ae (Long Beach) and Klong Dao to the more hidden and secluded Klong Nin and Kantiang Bay, visitors can soak up some sun in an environment which best suits them. The best ways to get to these beaches would probably be by scooter and what better place to start your riding career than Koh Lanta. The roads on Lanta are far less busy than many surrounding islands and the mainland, and therefore, it is the perfect place to learn to ride a scooter to explore the cliffs and beaches around the miles of coast. Day trips are also popular from Koh Lanta to popular diving and scuba spots, including Koh Haa and Hin Muang, which are rated as some of the best diving locations in Thailand. Other popular activities include yoga on the beach, cooking lessons from some fantastic teachers and a visit to the wonderful Koh Lanta Animal Welfare which so graciously and committed takes care of the animals of the island and will even let you take a dog to the beach for a walk.
---
Although the roads are negotiable, there are many potholes and dirt patches which can be dangerous when exploring the island by scooter.