The Coast
Koh Pha Ngan Travel Guide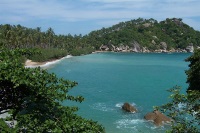 Koh Pha Ngan © Micha Schmidt
The beautiful little island of Koh Pha Ngan is a fantastic holiday destination lying in the centre of the Gulf of Thailand, about 35 miles (55km) from the mainland, and home to 10,000 or so people and hundreds of thousands of coconuts. Coconut exports and fishing have long been the mainstay of the locals, but in recent years tourism is becoming increasingly important as visitors flock in on ferries, lured by the island's magnificent beaches and the world renowned monthly Full Moon Party.
The site of Koh Pha Ngan's legendary parties is the crescent-shaped beach of Haad Rin on the island's south-east corner, which is besieged by up to 30,000 people from around the world at full moon each month. As dusk falls thousands of lamps are lit on tables along the beach and the music is cranked up, sending party-goers into a frenzy under the rising orb of the moon.
Visitors on holiday in Pha Ngan generally stay in one of about 200 thatched bamboo bungalows that line the island's beaches and are let out for a pittance. Those after more luxury can choose from the many holiday resort hotels. Wherever you stay, the holiday is wiled away pleasantly with snorkelling, swimming or relaxing on the white sands.
Facilities in the Koh Pha Ngan town of Thongsala are limited, but there is a bank, police station, clinic and pharmacy. Motorcycle taxis can be waved down, or mountain bikes hired to explore the more remote beaches. Some beaches can only be reached by sea, and water taxis are available in the town.
On Koh Pha Ngan, most shops and kiosks are in Thongsala and Haad Rin, stocking a range of cheap clothing and novelties, mostly aimed at holiday backpackers. Local handicrafts are plentiful, particularly batik. There are some photo shops and small supermarkets, including a couple of 7-Elevens.
There are plenty of storefront restaurants along the streets of Koh Pha Ngan's main town, Thong Sala, and along the beachfront at Haad Rin, ideal for a quick and tasty meal. Most serve a mix of Thai and western dishes. Street vendors are the cheapest option for local snacks. One of the most popular gathering places on the island is the Outback Bar on Thongsala's main street, which has a vast menu, pool tables, and a large screen TV showing satellite news and sports events. Another popular eatery is the Same Same restaurant at Ban Tai, offering basic favourites like burgers, pizza, pasta and steaks as well as Thai dishes.
While on holiday, most nights in Koh Pha Ngan's remote bungalow resorts are fairly peaceful, with a few beach bars playing music to serenade the incredible sunsets. At full moon, however, Haad Rin is the place to be, when a dozen or more sound systems blast the beach that becomes packed with thousands of hedonistic party animals. Along with visiting top class DJs, the entertainment is enhanced by jugglers, fire-eaters and frenzied dancers of all descriptions, while beach traders keep everyone fed and lubricated. The notorious Pha Ngan Full Moon parties are the ultimate experience.
The interior of Koh Pha Ngan, with its rutted roads through coconut plantations, past crystal waterfalls, viewpoints and little villages, cries out to be explored on hired motorbikes. The Pang Waterfall National Park offers beautiful walking trails. Those looking for a more spiritual holiday experience can visit the renowned temple and meditation complex of Wat Khao Tahm, between Thongsala and Had Rin, offering courses and retreats.
The enticing warm waters off the white sand beaches that surround Koh Pha Ngan are the main source of activity for visitors, who enjoy boat rides, snorkelling on coral reefs or just bathing in between spells of soaking up the sun. Scuba diving in Koh Pha Ngan offers a range of dive sites suited to beginners and advanced divers. The west coast has the highest concentration of dive sites, but there are sites to the north as well. The waters around Koh Pha Ngan have abundant corals, and divers can expect to see damselfish, stingrays, sea anemones, barracuda, angelfish and cuttlefish. Many dive sites in Koh Pha Ngan have corals at a depth of between 16 and 98 feet (5 and 30m), though some, like Sailrock, go down as deep as 131 feet (40m). Haad Khom is a popular site for snorkelling in Koh Pha Ngan Bay due to an extensive shallow coral reef system.
---
During the dry and rainy seasons mosquitoes can be a nuisance so be sure to pack plenty of mosquito repellent.