The East Coast
Hammamet Travel Guide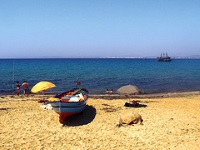 Hammamet © Marcin Grabski
Sandwiched between the Mediterranean and the Sahara lies the pride of the 'Tunisian Riviera': the sophisticated holiday resort town of Hammamet with its perfect sweep of beach, ancient and exciting medina, healing mineral baths and renowned hotels. Once a sleepy fishing village, Hammamet (meaning 'the baths') was awakened to its tourist potential back in the 1920s when a flock of wealthy American and European's decided to make it their playground.
Today it has become a destination mainly for middle-to-upper range package tours from Europe, the streets abuzz with scantily clad holidaymakers speaking Swedish, German, English and French. Despite its modern architectural and human incursions, Hammamet retains its sense of exotic history, dominated by its 15th-century medina and souk (bazaar), where donkeys and bargain-hunters navigate the labyrinth of Aladdin's caves packed with treasures like carpets, brass ornaments, jewellery, traditional kaftans, pottery and leather goods.
The narrow winding alleys also conceal bright, whitewashed windowless houses behind splendid ornate doors. The town's baths, famed since Roman times, are also situated in the crowded medina, alongside ancient mosques and over-shadowed by the medieval castle or kasbah. The big attraction of this seaside town, though, is its six-mile (10km) stretch of palm-fringed shore, boasting beautiful sandy clean beaches, decorated with colourful fishing boats.South of the old town, along the beach, a plethora of attractive Moorish style low-rise resort hotels, set in stunning lush gardens, has mushroomed, offering visitors luxury accommodations, watersports, entertainment, gourmet restaurants and all the trappings of a perfect holiday.
Shopping in the medieval souk (bazaar) in Hammamet is one of the most memorable holiday experiences for most people, who go home laden with attractive souvenirs. A treasure-trove of irresistible goods like exotic carpets, embroidered kaftans, glittering 'hubbly-bubbly' pipes, brassware, jewellery, leather goods and pottery are on offer to delight avid shoppers, who are expected to haggle over prices. Those needing to buy more practical goods will find what they require in the modern shopping centre
Most hotels catering for holidaymakers in Hammamet have their own restaurants, but the town itself overflows with a variety of eateries and pavement cafes where it is possible to find anything from fish and chips to pizza. No visit to Tunisia is, however, complete without sampling the renowned local dishes, though they can be overly spicy. Among the specialities to sample are Couscous (steamed semolina grains mixed with vegetables, fish, chicken or meat), Brik (pastry filled with egg, herbs and tuna), Chorba (thick, creamy tomato soup), and Makroudh (a syrup-soaked honey cake stuffed with dates).
Nightlife in Hammamet is low-key, with no all-night hot clubbing experiences on offer. Most hotels offer dancing and entertainment, and there are numerous bars and discos catering for visitors, most closing by midnight however.
Most holidaymakers come to Hammamet for the beach and sea, and there are a host of watersports on offer from water-skiing to snorkelling for those who want to do more than just laze in the sun. On top of the water, boat trips to view dolphins are a popular past time. On land there are some good golf courses, tennis courts and the chance to go horse riding or, more exotically, explore on camelback. Hammamet is well situated for a variety of excursions, offered enthusiastically by local operators. Most popular among these are shopping trips to Tunis, expeditions to the ruins of Carthage, desert safaris and outings to nearby Nabeul, headquarters of the ancient but still thriving local pottery industry.
---
Care is required when swimming in the sea, as there are some unexpected deep patches near the shore. Vendors of souvenirs in Hammamet can be irritating and an annoyance to holidaymakers on the beach, and some find shopkeepers in the medina a little too pushy and overbearing.