Mountains

---

---
Cities
Regions
Borovets Travel Guide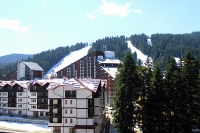 Borovets, Bulgaria © Biser Todorov
A fantastic holiday destination, Borovets is the oldest and biggest ski resort in Bulgaria, situated on the northern slopes of the Rila Mountains at the foot of Moussala, the highest peak in the country. Nestled among old pine forests, the resort was founded in 1896 as a hunting lodge for kings and aristocrats and gradually developed into a modern resort with luxury hotels, restaurants and a superb network of ski runs varying in difficulty. There is also a wide choice of off-slope entertainment and nightlife as well as organised trips to places of interest in the Rila Mountains. Winters are mild and snowy and the air is clean, clear and invigorating.
The ski slopes are divided into two main sectors, with the Markoudjik sector offering the best skiing above the tree line, including the highest ski point reaching 8,333ft (2,540m). Borovets has a total of 22 miles (35km) of ski pistes, and has recently installed new lift facilities with lighting and sound systems, which allows for night skiing and snowboarding. The resort also boasts modern snowmaking machines ensuring that conditions stay excellent. Snowboarders enjoy the Rotata half-pipe with a vertical drop of 1,050ft (320m), suitable for advanced riders at its upper end and beginners at the lower end. The Borovets Ski School has an excellent reputation for skiers who need a bit of help.
Shopping in Borovets has improved greatly in recent years following a burst in popularity for the resort. The busy shopping street in front of the Rila Hotel is a beehive of open-fronted small shops, with a colourful market atmosphere, selling all sorts of goods from ski gear and souvenirs to cigarettes and cheap CDs. Most visitors find prices here much lower than elsewhere in Europe.
Eating out in Borovets is generally very good value, as prices are much lower than in many other European ski resorts. The number of taverns, eat-in pubs, take away joints and outdoor restaurants seems to be growing in Borovets every season, and holidaymakers can take full advantage of the diverse dining scene. The choice has become very eclectic, from Kentucky Fried Chicken and pizza to traditional Bulgarian favourites. Visitors should not forget to indulge in some of the Bulgarian fine wines along with their dinner.
Every night is party time when it comes to Borovets' nightlife, as it has a reputation for being one of the hotspots on the European ski circuit and a popular destination with energetic holidaymakers. The fun is fuelled by the fact that drinks are cheap, there are long happy hours, and sometimes drinks are even offered for free. All the bars, clubs and discos serve well-known international brands as well as local beers like Astika, Zagorka and Kamenitza. Beware the national drink, rakia: it is a rather strong variety of plum brandy and not for the faint of heart.
Off the ski slopes Borovets has all the usual amenities of a winter holiday resort, and many hotels offering indoor swimming pools, saunas and gyms. Night skiing is often available from 5pm to 10pm. Visitors can also take excursions to nearby resorts or places of interest, like the Rila Monastery. Ice-skating and skidoos are also an option for chilly fun in the sun.
---
The resort is quite old-fashioned and amenities are basic. Borovets can appear almost abandoned in the summer, though there is good hiking.
What to see in Borovets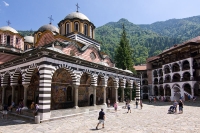 The biggest and most famous of Bulgaria's monasteries is situated in the northwestern part of the Rila Mountains and is one of the most significant monuments on the Balkan Peninsula. Rila Monastery…

read more