Mountains

---

---
Cities
Regions
Pamporovo Travel Guide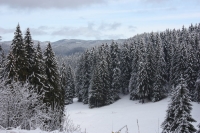 Pamporovo, Bulgaria © Okotuki
A modern ski resort in the heart of the Rhodope Mountains, at an altitude of 5,413ft (1,650m), Pamporovo is a popular holiday destination with a sunny climate and powdery snow. The town provides a variety of excellent ski runs covering all degrees of difficulty, most of them starting from the Snejanka peak above the resort. The ski school centre in Pamporovo is considered one of the best in Europe with highly qualified instructors and an international reputation. The unique Mediterranean climate is thought to be extremely healthy and provides excellent conditions for climatic therapy and health tourism all year round, including a Balneotherapy Centre that operates from within the resort. Off the slopes there are numerous opportunities for entertainment and interesting tourist attractions. The Rhodope Mountains have long been the source of legends and stories, including the mythical singer Orpheus, and the region is full of rich folk traditions and culture.
Although Pamporovo offers skiing for all levels of experience, its nursery slopes are particularly good and beginners soon flourish. There are more than 100 well-qualified instructors available fluent in a variety of languages at the ski school centre. All the main runs start from the peak of the Snejanka at the TV tower. The most difficult ski piste is 'The Wall', a black run which offers an exciting challenge. Great off-piste skiing and snowboarding is also on offer. Snow conditions are reliably excellent throughout the season.
The main shopping centre in Pamporovo, containing mostly boutiques, souvenir shops and sports gear outlets, is attached to the Hotel Perelik and should amply satisfy the shopping urges of holidaymakers. There is also a shopping centre at Murgavets Hotel. Many stores sell traditional Bulgarian souvenirs, and there are a variety of shops that stock ski equipment.
Pamporovo restaurants serve a wide variety of cuisine, but most holidaymakers favour the local folk taverns like the Chevermeto, where whole sheep are roasted over open fires and dancers in traditional costumes provide colourful entertainment. Cosy pubs selling international staples like steak and pizza are numerous, and those looking for more upmarket dining will find a few restaurant options worthy of the fine Bulgarian wine.
The nightlife in Pamporovo is lively, with plenty of options to choose from, whether you're the kind of holidaymaker who prefers sipping wine in a cosy piano bar, or partying the night away in a club. Many of the most popular entertainment venues are attached to the big hotels.
Ski season in Pamporovo comes hand in hand with a full programme of events and activities for holiday visitors to enjoy, ranging from bum-boarding to a raucous ski-instructor's show. Bowling is offered at hotels, ice-skating, skidooing and tobogganing are popular pastimes, and excursions to nearby places of interest, including Sofia, are on offer.
---
The barking of stray dogs can become a nuisance to holidaymakers, especially at night. There are not many slopes suited to experienced skiers.