Italian Alps
Cities

hide Cities
Regions

show more Regions
Ski Resorts

---

---
Ports of Call

---

---

---
Cortina D Ampezzo Travel Guide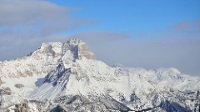 Cortina d'Ampezzo © Manuel Bierbauer
Regarded by many as one of the most beautiful holiday resorts in the world, Cortina d'Ampezzo, or Cortina as it is often simply called, overlooks the spectacular Dolomites region of the Italian Alps. Located in northeastern Italy, the resort is popular with international celebrities, the in-crowd from Milan and Rome (many of whom own private chalets), as well as those who can afford it from elsewhere in Europe and North America. Cortina is considered Italy's most fashionable ski resort.
There is something for everyone at Cortina with some fantastic groomed runs for beginners and intermediates and some of the most daring skiing for experts, depending on the snow. Snowboarders are very welcome in Cortina. The nursery slopes are wonderful, with gentle terrain; the runs for intermediates are good but not extensive and may get repetitive; when the resort is at its best the options for advanced skiiers are amazing, but they are snow dependant. The many skiing areas of the resort require some moving around but the scenery is so spectacular that this chore becomes a pleasure.
Although Cortina's popularity means the town can become unpleasantly crowded, the slopes are generally surprisingly uncrowded, partly because there is so much else to enjoy at the resort.
Cortina offers some of the best and most upmarket shopping of any European holiday ski resort, with a number of clothing boutiques and more than enough sport shops selling ski and snowboarding equipment, including Morotto Sports Equipment and Piccin Sports, which during summer focus on mountain biking needs. Other novelty shops include Zardini Stoves, which produces some of the greatest stoves around. Shopping is one of the perks of Cortina, fuelling the resort's fashionable reputation.
Traditional Italian fare is what it is all about in Cortina and holidaymakers can enjoy delightful, cosy restaurants offering good times and great views. Both fine dining and more casual options are available. Eating out in Cortina tends to be expensive, but the quality of food is generally high.
Cortina is easily as popular for its amazing nightlife as for its skiing. There are glamorous night clubs and bars, which see the fashion brands and furs on parade, but also some more basic and unpretentious apres-ski venues. The main concentration of the nightlife is on classy wine bars rather than the karaoke-style fun one finds at some more mainstream resorts.
One of the things that sets Cortina apart as a ski resort is the fact that even during peak ski season the town attracts many travellers who are there to enjoy the shopping, restaurant scene and mountain scenery. It is not necessary to hit the slopes to have a fun and interesting holiday in Cortina.
The Olympic Bobsled is most definitely worth some attention and the chance to gain speeds of 75 mph (120km/h) can be enjoyed by those brave enough. Sledding is another popular activity for those needing a break from ski or snowboarding boots, as are snowshoeing and hiking trails. Day trips to Venice and a number of other exciting destinations can be arranged.
---
Cortina can get crowded with day visitors during peak periods and is quite expensive as Italian resorts go. Snow reliability can vary.