Swiss Alps

---

---
Regions
Klosters Travel Guide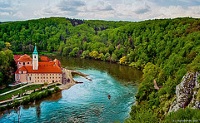 Klosters © Heribert Pohl > 3 million
Situated about six miles (10km) from the busy Swiss ski resort of Davos, in the heart of the Graubunden region south-east of Zurich, the small, traditional and quiet village of Klosters shares the expansive Parsenn ski area with the larger resort, but offers a more exclusive and romantic holiday setting.
Klosters, its two pretty neighbourhoods filled with picturesque chalets, also has its own ski area, the Madrisa, ensuring the resort offers skiing for all abilities in a discreetly charming Alpine setting, away from the madding crowd of the tourist mass market. Exclusivity is expensive, however, and Klosters has become known as the holiday haunt of the rich and famous, and is particularly favoured by the British Royal family as a winter sports getaway with first-class off-piste skiing.
Combined with the Davos area, Klosters is part of the Rega Pass Ski Area, and offers skiers direct access to 190 miles (307km) of downhill piste, the 97 individual pistes served by 52 ski lifts. The Parsenn is the best-known area and is reached by the Gotschna cable car. The longest run in the area is over seven miles (12km). The resort is renowned for its powder snow, the altitude ensuring coverage throughout the season, and offers skiing to suit all ages and stages. Snowboarders are catered for with two terrain parks and one halfpipe.
Klosters is permeated with small speciality stores, with sports outlets predominating although there are also some boutiques and art galleries. Those who want to become really involved in a shopping expedition prefer to take the short trip to neighbouring Davos, with more than 100 stores, art galleries and boutiques selling all manner of goods from souvenir cow bells to designer clothing. The shops in Davos are centred along the two main streets around the Davos Platz.
For its size the little village of Klosters has an abundance of restaurants, both on and off the slopes. The atmospheric Chesa Grischuna has been an institution in the town since 1938, its history as enthralling as the quality of its cuisine. Another dining treat is the Walserhof Hotel's Michelin-starred restaurant, where famed Swiss chef Beat Bolliger conjured up imaginative delights using mainly local produce. Other excellent hotel restaurants open to non-residents in Klosters are The Alpina and Alte Post. Booking is essential at most restaurants, and expect to pay a high price at the best restaurants. For delicious pizzas try Al Berto. Klosters is also famed for its wonderful mountain restaurants, known as Schwendis, which are rustic timber Alpine huts, most with terraces to take advantage of sunny days.
Après-ski on a Klosters holiday is merry but low-key. As the skiers and snowboarders come down from the slopes they gather at the Schwendis (mountain chalet bars) or a few favourite spots like Gaudi's for a warming glass of beer or schnapps. Cocktails and before-dinner drinks are sipped in hotel bars. The Piano Bar at Chesa Grischuna is the most stylish. The late-night disco/club in Klosters is the Casa Antica, with a disco on the ground floor, and classy cocktail bars on the two upper floors.
Apart from skiing and snowboarding, and their attendant activities like cross-country events and night trails, a winter holiday in Klosters is full of fun activities for all ages. There are dozens of miles of winter hiking trails, seven toboggan runs, ice hockey and figure skating lessons, organised snow-shoe treks, curling rinks and horse-drawn sleigh rides through snowy landscapes. Most of the larger hotels in the area offer indoor swimming pools and spa treatments. In nearby Davos, reached by bus or train in a few minutes, there is indoor golf, tennis and squash, and a large casino.
---
Klosters' attraction to many is also a drawback to some who consider it to be too swanky and rather expensive. The nightlife is also relatively limited as many guests entertain in their chalets. The ski area itself, while wide and varied, is spread out over a number of separate areas.