Cities
Introducing Algeria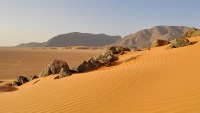 Algeria © Julian Herzog
Its sun-kissed shores and rugged coastline caressed by the Mediterranean Sea, Algeria tempts visitors with the promise of a unique exoticism. Snow-capped mountains hint at greater mysteries that only first-hand experience can reveal, with journeys beginning in the enchanting north and leading on to many treasures.
Enchanting culture, sapphire seas and green ravines draw visitors to the Bay of Algiers, parting the sheer veil over Algeria's charm, while the citadel walls of the Casbah watch on as they have for centuries. Algiers, the capital, projects its turbulent history through its architecture, with French-built boulevards coming together with socialist-era monuments and elegant apartments, weaving a textured tale of destruction and rebirth.
Laid-back Tlemcen provides a change of pace. Surrounded by olive trees and vineyards, it's a wonderful destination for leather and textile shopping. Hikers can explore lunar landscapes of the northwestern mountain ranges, while Timgad, Djemila and other beautifully preserved Roman towns offer a glimpse into the area's past. Further south, the Saharan region extends over a sea of sand to mountains that are as beautiful as they are unyielding, their caverns containing rock paintings dating back more than 10,000 years.
Unlike neighbouring Morocco, Algeria has yet to become an established tourist destination. But given its natural beauty, history and rich culture, that may soon change. The country has made a real effort to improve its general safety, making extraordinary gains in recent years and allowing travel across the country to be safe and reliable. But travel to the more remote areas and wider Sahel region is still considered extremely dangerous with regards to terrorists.
Become our Algeria Travel Expert
We are looking for contributors for our Algeria travel guide. If you are a local, a regular traveller to Algeria or a travel professional with time to contribute and answer occasional forum questions, please contact us.