Introducing Belgium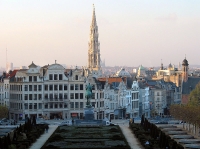 Belgium capital, Brussels © Jean-Pol GRANDMONT
Belgium Travel Guide
Despite its small size, Belgium could easily be mistaken for several countries, each with their own distinct personality; Flemish Flanders and French-speaking Wallonia can feel as different as France and Germany. Sandwiched between London, Paris, and Amsterdam, Belgium packs in a variety of cities and landscapes that offer many attractions for visitors. While most of Belgium's well-known cities, including Brussels, Bruges, Ghent, and Antwerp, are in northern Belgium, the southern region of Wallonia offers quaint towns and beautiful landscapes largely ignored by tourists.
Belgium's major cities are lively and cosmopolitan, with interesting modern attractions like the Walibi Belgium amusement park to contrast with historical attractions that include museums, palaces and art galleries. Food lovers especially will want to spend a few days in Brussels sampling the delights of Belgian cuisine and the city's renowned chocolate-makers. After dark the cities continue to buzz with music and nightlife, hosting many cultural events and festivals that delight both locals and foreign visitors.
Though often overlooked for its more famous neighbours, a holiday in Belgium offers attractions and activities to please travellers of all ages and interests.
Best time to visit Belgium
The weather in Belgium is generally moderate with few extremes, making pleasant holiday weather for much of the year. As July and August are peak tourist seasons, visitors will find the best time to visit Belgium is in April or September for smaller crowds and better deals. Read more about Belgium's Climate and Weather.
What to see in Belgium
-Tour the World War I battlefields of Flanders.
-See famous cartoons and comics at the Belgian Centre of Comic Strip Art.
-Get a bird's-eye view of famous European landmarks at Mini Europe.
-View the iconic Atomium sculpture in Brussels. Read more about Belgium Attractions.
What to do in Belgium
-Indulge your sweet tooth at the Choco-Story Museum.
-Learn about diamond cutting and polishing at the Bruges Diamond Museum.
-Enjoy the markets and flower stalls at the Grand Place in Brussels.
-Get sprayed by the famously-irreverent Manneken Pis fountain.
Getting to Belgium
There are plenty of direct cheap flights to Belgium from the UK and US, landing at Brussels International Airport. If travelling to Belgium from England or Europe, there are direct train services to Brussels from London, Paris, Amsterdam, Frankfurt, Zurich, and many other cities. Get more information on Belgium Airports.
Read
The Sorrow of Belgium by Hugo Claus, A Dog of Flanders by Marie Louise de la Ramée, and Niccolo Rising by Dorothy Dunnett
Listen
Quand on n'a que l'amour (Jacques Brel)
Watch
Carnival in Flanders (1935), L'enfant (2005), and In Bruges (2008)
Drink
Locally-brewed Abbey beers
Eat
Belgian chocolate and Belgian waffles
Buy in Belgium
Belgian chocolate and handmade lace
Pack for Belgium
An umbrella; Belgium is known for wet weather at any time of the year.
What's on in Belgium
The Brussels' annual Flower Show is certainly worth seeing and is a beautiful sight for any green-fingered visitor. Bruges' Choco-Laté Festival in November is a great place to sample Belgian chocolate. Brussels builds a beach resort, Bruxelles Les Bains, along its canal every summer in July and August. More information about Events in Belgium.
Some random facts
Belgians consume an average of 20 pounds (9kg) of chocolate, individually, every year.
A final word
Belgium is a small country that draws the best in culture from its neighbours for a fascinating blend of food, music, and history.
Become our Belgium Travel Expert
We are looking for contributors for our Belgium travel guide. If you are a local, a regular traveller to Belgium or a travel professional with time to contribute and answer occasional forum questions, please contact us.