Introducing Bonaire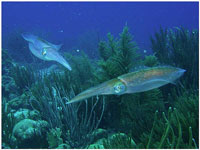 Reef squids © Dan Hershman
Meaning good air in French and nestled in deep in the Caribbean, Bonaire forms part of the ABC chain of islands in the Lesser Antilles (the others being Aruba and Curacao). With crystalline turquoise waters brimming with coral reefs for miles in every direction, this tiny island boasts the Bonaire National Marine Park, widely regarded as one of the best offshore diving destinations in the world.

Originally inhabited by the tall Caquieto Indians, the Spanish first named the ABC islands 'las Islas de los Gigantes', meaning 'the island of the giants' and Caquetios rock paintings can be seen at Spelonk, Onima, Ceru Pungi, and Ceru Crita-Cabai. Besides being one of the biggest scuba diving meccas in the world, Bonaire is also famed for its Flamingo population, which is drawn here by the abundance of shrimp found in the brackish waters. Donkeys can also be seen roaming freely and the Donkey Sanctuary is a major tourist attraction.

Colonised by the English and Dutch, the latter of which is still prevalent today in the language and architecture, evidence of Bonaire's oppressive past can still be seen in the saltpans in Rincon where African slaves were put to work alongside Indians and convicts in the 1600s.

The Caribbean is known a major thoroughfare for drug smuggling from South America and visitors should be vigilant with their luggage. There are no major health threats associated with visiting Bonaire, but travellers should arm themselves with insect repellent and be cautious of excessive exposure to the sun.

With a perfectly consistent tropical temperature, which is moderated by Atlantic trade winds, Bonaire is the ideal playground for lovers of all things aquatic. From scuba diving, snorkelling and fishing to sea kayaking, wind surfing and kite boarding, this little slice of tropical paradise will beautiful memories to be relived for years for all who visit Bonaire.
Become our Bonaire Travel Expert
We are looking for contributors for our Bonaire travel guide. If you are a local, a regular traveller to Bonaire or a travel professional with time to contribute and answer occasional forum questions, please contact us.