Kralendijk Port of Call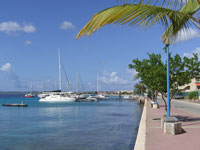 Bonaire Harbour © brechtje.molenaar
The small boomerang-shaped island port of Bonaire, which means good air in French, forms part of the Lesser Antilles, together with Curacao and Aruba, and oozes British and Dutch colonial charm. This small island port is much quieter and more relaxed than other ports with only one casino and very little glitz and glamour.
The breathtaking Bonaire National Marine Park is regarded as one of the top destinations for shore diving in the Caribbean, while Washington-Slagbaai National Park has Brandaris, the island's highest point. Other popular sights include the salt pyramids and Willemstoren Lighthouse.
Cruise ships dock at the island's capital and largest town, Kralendijk, which means Coral reef in Dutch. The dock takes cruise passengers to Wilhelmina Park and Queen Beatrix Way where a brick-paved path, lined with a few shops, restaurants and bars leads along the waterfront. Nearby Fort Oranje was built in 1639 to defend Bonaire's main harbour.
---
Contact
Tourist office, Kaya Grandi
Tel: +(599) 717 8322
Transport
Taxis can be hailed quite easily outside the disembarkation area with fixed rates set to various destinations. Price lists can be produced by taxi drivers on request. Scooters and mopeds are also a good option for getting around and can be hired easily. Parts of the town are easily accessible by foot and many find this the easiest way to get around. Avis, Budget, Hertz, and National, as well as a number of local car hire companies have offices in Bonaire.
Attractions
The main attraction in Bonaire has to be the fantastic diving and snorkelling opportunities. Boasting some of the world's most diverse marine life, including the elusive seahorse, Bonaire's reefs and waters are a treasure trove for avid divers. Glass-bottom boat tours are also available while landlubbers will enjoy the Donkey Sanctuary, Flamingo Sanctuary and the original Spanish settlement of Rincon, founded in 1527. The Washington-Slagbaai National Park, pride of Bonaire and the Caribbean's first national park, is also a must!
Restaurants
Chibi Chibi at Divi Flamingo Beach Resort & Casino - casual waterfront eatery with great seafood dishes, perfect for the family
Zeezicht - Romantic eatery with delicious fresh seafood and picturesque sea views
The Lion's Den - Good value family restaurant with children's menu
Best Dish
Fresh local linefish
Shopping
Bonaire is not known for its shopping, and one could visit every store in Kralendijk within a few hours. The main shopping area is on a block on Kaya Grandi.
The Bonaire Gift Shop sells unique jewellery made from black coral and other marine specimens. Littman's, at the open-air Harborside Mall, stocks a wide selection of resort wear, T-shirts, watches and custom-designed gold and silver jewellery.
Best Buy
Dive watches, underwater cameras
Excursions
Scuba dive in Bonaire National Marine Park
Explore the Donley Sanctuary
Ride on horse-back on pristine beach trails
Check out the Flamingo Sanctuary
Visit the Salt Pyramids
Become our Bonaire Travel Expert
We are looking for contributors for our Bonaire travel guide. If you are a local, a regular traveller to Bonaire or a travel professional with time to contribute and answer occasional forum questions, please contact us.