Cities
Regions
Introducing Botswana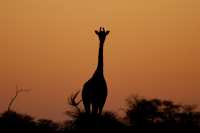 Giraffe © Justin Jensen
Botswana is a landlocked country constituted by a vast plateau that provides the breeding ground for a huge variety of African wildlife. This scenic wonderland draws thousands of tourists from around the world throughout the year. Most visitors arrive under the auspices of one of the many safari-package operators the specialise in this region.
At the time that it gained independence in 1966, Botswana was counted among the ten poorest countries on earth. A dramatic turnaround came just a few years later when a treasure-trove of diamonds was discovered within its borders. Now the country is the third largest producer of diamonds in the world and Botswana has enjoyed years of growth and economic buoyancy.
The country is bordered by South Africa in the south and southeast; Zambia and Zimbabwe in the northeast; and Namibia in the north and west. It is the northwest corner of the country that is the most sought-after by wildlife enthusiasts because it is here that the Okavango River drains inland from Angola to form the Okavango Delta - the largest inland delta in the world - which provides sustenance to a rich profusion of wildlife. The delta is extremely beautiful, big sky country with spectacular scenery across grassy plains and limpid lagoons. The Moremi Wildlife Reserve, covering 700 square miles (1,812 sq km) in the northeast corner of the Okavango Delta, is the ultimate African safari destination.
Become our Botswana Travel Expert
We are looking for contributors for our Botswana travel guide. If you are a local, a regular traveller to Botswana or a travel professional with time to contribute and answer occasional forum questions, please contact us.