Cities
Regions
Introducing Bulgaria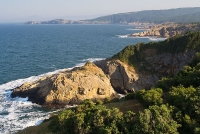 Bulgaria's beautiful coastline © Evgord
Bulgaria is a beautiful country, with a sprinkling of mountains; it is small in size but rich in ancient culture, scenic splendour, friendly people and old-fashioned warmth and hospitality. Situated in the southeast of Europe, on the Balkan Peninsula, Bulgaria is not as much a tourist destination as its Greek and Turkish neighbours despite the popularity of its reasonably priced Black Sea resorts, which are scenically captivating with their fine, sandy beaches, sunny climate, and safe seas.
Although better known for its sea resorts, the essential character of Bulgaria can really be found in its spectacular mountainous regions. The six very different mountain ranges in the country vary from high, snow-covered peaks to gentle green slopes and forests, harbouring thermal springs and mineral spas, and valleys where the air bears the fragrance of flowers and herbs. The Valley of Roses lies in the heart of the country and is one of the largest producers of rose oil in the world, giving credence to Bulgaria's soubriquet, 'Land of Roses'.
At the foot of the Vitosha Mountains lies the laid back capital city, Sofia, which is home to a great number of architectural monuments and museums. On the other hand, the rugged heights of the Rila and Pirin mountains form a spectacular setting for ski resorts, as well as the famous Rila Monastery and the majestic landscape of the Pirin National Park, a UNESCO World Heritage site. Crossing the entire country is the Balkan Range, a 329 mile (530km) chain that offers some of the best hiking in Europe.
As varied as the different mountain ranges are the people who dwell in them, with distinctive regional customs, crafts, festivals, and folklore adding colour to the Bulgarian landscape. Small, picturesque villages welcome guests with typical, warm-hearted Bulgarian hospitality, sharing traditional cooking and a delight in their pastoral environment.
Bulgaria's history is displayed across the country in its old towns, ancient Thracian relics, decorated churches and monasteries, and in the rustic settlements that have preserved the traditional beliefs of its people. One of the country's biggest assets for visitors is its variety, but whatever aspect one chooses to explore, there is always the assurance of a warm welcome.
Become our Bulgaria Travel Expert
We are looking for contributors for our Bulgaria travel guide. If you are a local, a regular traveller to Bulgaria or a travel professional with time to contribute and answer occasional forum questions, please contact us.