Introducing Burundi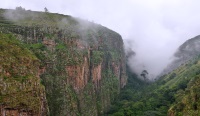 Faille aux Allemands © Kiki and Johannes
Visitors will be pleasantly surprised by the serenity and charm of Burundi. With the ending in 2005 of its longstanding civil war, the small republic in East Africa has now for more than a decade enjoyed an influx of curious tourists, attracted to its gentle peace and astounding natural beauty.
Lapped by the clear waters of grand Lake Tanganyika, the longest lake in the world, and blessed with lush mountainous jungles to the north and rolling green hills to the east, the only land below 3,000 feet (915m) in Burundi is a narrow strip of plain along the Ruzizi River.
A wealth of sights are on offer, from the thermal waterfalls in the Mugara Reserve and the southern source of the Nile at Rutovu to Kibira National Park, where chimpanzees, colobus monkeys, and crested mangabeys dash through dense foliage. And even though coffee is the country's largest export, it is the vast tea plantations of Teza and Rwegura that will capture the visitor's imagination.
Burundi has had a turbulent history. A 12-year civil war between the Hutus and Tutsis, mirroring the violent genocide in neighbouring Rwanda, broke out in the early 1990s after tension between the dominant Tutsi minority and Hutu majority flared up, demoralising the people and weakening the country's infrastructure. A ceasefire agreement and free and fair elections were conducted in 2005, resulting in relative peace and a new democratic government.
Although undeveloped and in bad repair, the capital Bujumbura offers a friendly and cosmopolitan ambience. Charming art deco buildings from the colonial times line the streets as well as restaurants serving Belgian, Asian, and Burundi cuisine, and the local Primus beer. For colourful markets, leather, ceramics, ivory, and woodcarvings, follow the road to Gitega, Burundi's second largest city, where the Museum of Traditions can also be found.
Become our Burundi Travel Expert
We are looking for contributors for our Burundi travel guide. If you are a local, a regular traveller to Burundi or a travel professional with time to contribute and answer occasional forum questions, please contact us.