Places

show more Places
Cities

hide Cities
Cape Breton Port of Call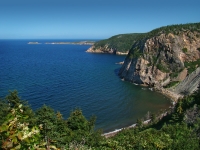 Cape Breton Island © Tango7174
In the heart of Nova Scotia's Cape Breton Island, Sydney offers a modern and scenic cruise port well situated for exploring the rugged coastline and forested interior of the island and the city of Sydney.
Popular activities on Breton Island include walking in Sydney's tranquil Wentworth Park, exploring the historic buildings in the city, and taking a drive along the scenic Cabot Trail.
Cruise ships dock at the east side of Sydney Harbour inside a long, protected inlet at a newly renovated cruise port that also berths cargo and other trade vessels. The Joan Harriss Cruise Pavilion welcomes passengers to trade shows, concerts and galleries and is well situated to begin excursions about Breton Island. More than 40 cruise ships make use of the harbour facilities every year.
---
Contact
A tourism office is located in the cruise ship terminal.
Transport
Transportation from the port is limited, although taxis can be hailed from the Joan Harriss Cruise Pavilion. Unless taking part in excursions and tours organized by the cruise operators, the best way to get about Breton Island is by renting vehicles, which can be organized from the cruise pavilion.
Attractions
Sydney is not packed with sightseeing attractions, but there are some interesting historic houses to seek out, and a lively waterfront area. The most rewarding tourist activity is taking scenic drives around the island interior. Cape Breton Highlands National Park has both high plateaus and the famous winding coastal road, the Cabot Trail. The national Park is also popular for mountain bikers and hikers. Unique traditional music is often performed at venues in Sydney including the cruise pavilion.
Restaurants
Joe's Warehouse - Traditional Canadian home cooked meals
Tim Hortons - Canadian fast food done right
A & K Lick-A-Chick - Great fried Chicken
Best Dish
Fried Chicken
Shopping
The Cape Breton Centre for Crafts and Design is a good place for souvenirs. The Mayflower Mall and the Sydney Shopping Centre are both larger shopping complexes for more practical purchases. There are not many boutique shops in Sydney, although smaller shops are spread about touristy sights around Breton Island, especially Baddeck village.
Best Buy
CD of traditional music
Excursions
Visit Baddeck village
Explore the Fortress of Louisbourg
Go underground at the Miner Museum
Brave the water at Ingonish Beach
Become our Canada Travel Expert
We are looking for contributors for our Canada travel guide. If you are a local, a regular traveller to Canada or a travel professional with time to contribute and answer occasional forum questions, please contact us.