Ports of Call

---
George Town Port of Call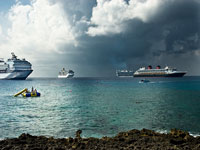 Cruise liners in George Town © flickrized
Grand Cayman, the largest of the three Cayman Islands, and its small but affluent port city, George Town, are known for lax offshore business regulations and a quaint but bustling tourist district flanked by stretching aqua beaches. Blessed with fascinating coral reefs and crystal clear turquoise waters, miles of sandy white beaches, and an amazing biodiversity of marine life, Grand Cayman is a popular destination with divers and holidaymakers alike. Ships dock at the capital port of George Town at either the north or south docks, both of which are conveniently located in downtown George Town.
Key attractions in the vicinity of George Town include the Cayman Turtle Farm, the renowned Seven Mile Beach, which is actually only about five and a half miles (8.9 km) long, the Queen Elizabeth II Botanic Park and the Pedro St James Castle with panoramic views from the nearby Great Pedro Bluff.
Despite often accommodating up to six cruise liners at once, there is no docking pier and very limited anchorage in the small George Town Harbour. Cruise liners remain anchored or drifting just outside the harbour and passengers are ferried to Harbour Drive docks with long but regular tender rides. Many shops, bars, restaurants, and attractions are located just outside the docks and passengers will enjoy the endless duty-free shopping on offer.
---
Contact
Tourism Department, The Pavilion, Cricket Square
Transport
Taxis are available at George Town docks where cruise passengers disembark. Rates are posted at the taxi stand. A tourist information booth at the docks can help with licensed bus route services identifiable with blue license plates. Cayman Island or US dollars are generally accepted. Minibuses that shuttle passengers along main routes can also be hailed easily from the docks. Many of the shops are within walking distance once in town. Local car hire offices are also available in Grand Cayman.
Attractions
The shopping district is a hit with cruisers as is Seven Mile Beach and Stingray City. For adventure seekers the Atlantis Submarine takes passengers for a real submerged dive. The island's history can further be explored at the Cayman Islands National Museum on Harbour Drive. Although the Cayman Islands are almost completely flat, the on-land attractions include interesting bird watching and hikes through rare fauna. One of the best sights is the Cayman Turtle Farm, home to about 16,000 turtles spread over 23 acres of swimmable lagoon. Another attraction, strange but popular with cruise groups, is the limestone rock formations of the village of Hell in West Bay.
Restaurants
Casanova by the Sea - local seafood with an Italian influence.
Yoshi Sushi - authentic Japanese sushi.
1885 Restaurant - intimate restaurant with stunning views and gourmet food.
Best Dish
Turtle soup.
Shopping
Grand Cayman has quite the reputation for its remarkably low prices on duty-free designer goods, such as jewellery and watches from names such as Gucci, Cartier, Maurice Lacroix, and more. Caymania Duty Free on Cardinal Avenue is the place to go for perfumes, gemstones, and cosmetics, while fine china, leather, crystal, and liquor, especially rum, are also available at bargain prices. Governor's Square Mall is great for a spot of shopping while local crafts such as handcrafted jewellery, salvaged coins, and antiques can be scooped up for a song. A Farmers Market Cooperative is open Saturdays in the Lower Valley and focuses on local cuisine, rum, spices, and coffee.
Best Buy
Watches, rum cakes.
Excursions
Walk on Seven Mile Beach.
Check out Atlantis Submarine.
Go scuba diving.
Enjoy some deep sea fishing.
Go sea kayaking.
Become our Cayman Islands Travel Expert
We are looking for contributors for our Cayman Islands travel guide. If you are a local, a regular traveller to Cayman Islands or a travel professional with time to contribute and answer occasional forum questions, please contact us.