Introducing Central African Republic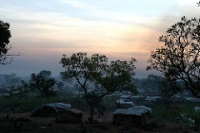 Central African Republic © Pierre Holtz
The landlocked territory of the Central African Republic (CAR) borders Chad, Sudan, South Sudan, the Democratic Republic of the Congo, the Republic of the Congo and Cameroon. With a history of conflict, the Central African Republic is not currently considered a safe travel destination.
Years of tyranny under various corrupt regimes have rendered CAR one of the poorest countries in the world and it has been destabilised by military coups and civil unrest. The British Foreign Office and many other travel authorities advise against tourist visits. Travellers should check the advice of their national government and the political situation in CAR before visiting.
But the dangers can't completely disguise the attractions of the country, which include breathtaking natural splendour and amazing wildlife. Although few travellers visit CAR, those that do will discover a beautiful albeit poverty-stricken country with virtually no tourist infrastructure. Most foreign visitors stick to Bangui, the capital city, but the adventurous sometimes choose to travel to see gorillas or elephants in the Dzanga-Sangha National Park or visit the fantastic Toutoubou Falls.
The climate is generally wet from May to November and drier from November to April, although the dry season lasts a bit longer in the south.
Become our Central African Republic Travel Expert
We are looking for contributors for our Central African Republic travel guide. If you are a local, a regular traveller to Central African Republic or a travel professional with time to contribute and answer occasional forum questions, please contact us.