Introducing Cook Islands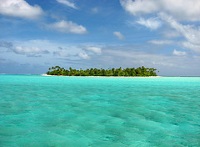 Cook Islands © Christina Spicuzza
The 15 Cook Islands, formed by volcanic activity, are scattered across the south Pacific Ocean. These unspoilt Polynesian tropical gems have the combined population of around 20,000, comprised of unique and friendly people. Most Cook Islanders live on the capital island of Rarotonga, which is also where most of the 70,000-odd annual visitors stop off, arriving at the island's international airport.
Circular Rarotonga is almost completely enclosed by a reef, harbouring a lagoon of clear turquoise water and white sandy beaches. The small island is dominated by a high mountain peak from where lush rain forests cascade down to the palm-fringed shore.
The commercial centre of the islands is the friendly, bustling town of Avarua on Rarotonga, which has banks, shops, and tourist facilities as well as a busy port and yacht basin. The outer islands are becoming increasingly popular for excursions, remaining largely unspoiled by tourism.
The Cook Islanders have their own language and government, and enjoy a vigorous and diverse culture with significant differences between each island. Even if you go no further than Rarotonga, though, you will be ensured of a dream 'South Seas' holiday experience on the pristine beaches, snorkelling the reef, or exploring the island by bus, motor scooter, bicycle, or jeep.
Become our Cook Islands Travel Expert
We are looking for contributors for our Cook Islands travel guide. If you are a local, a regular traveller to Cook Islands or a travel professional with time to contribute and answer occasional forum questions, please contact us.