Cities
Ports of Call

---

---
Limon Port of Call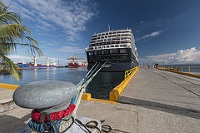 Puerto Limon © Richard Tanton
On Costa Rica's Caribbean side, Limon, also called Puerto Limon, is an authentic and relatively non-touristy port known less for its faded low-slung city than for its incredible eco-tourism opportunities. Some of the best eco-tourism sights include an aerial tram ride over the canopy of a rain forest nature reserve or a small boat ride up the Tortuguero Canal, a winding system of connecting rivers through pristine wilderness.
Cruise ships dock at a pier directly in downtown Limon, a walkable distance from most places in town. The pier can accommodate large vessels and is protected on one side by a sand bar. The harbour has an open-air cruise Welcome Centre but is primarily a commercial port used for much of Costa Rica's sea trade.
---
Contact
Tel: +506 799 0215
There is a tourist operator desk in the cruise terminal.
Transport
Much of Limon is walkable. Buses for short excursions leave from the central bus station located on Avenida 2. Taxies are available for hire right from the cruise terminal and passengers should agree on a price before the trip. They should also be careful walking alone outside the city centre.
Attractions
A tram ride over the Braulio Carrillo National Park offers great scenery, as does a canopy zip line aptly named Wild Monkey Canopy Tour. A calm boat ride up the Tortuguero Canal is perfect for up close wildlife viewing, although the adventurous can take a white water raft trip on the Reventazon River which includes a long hike through the jungle. For beach relaxation, the nearby Playa Bonita is a serene escape, as is a tour of the banana plantations.
Restaurants
Peace and Love Bread and Coffee - Italian cuisine with a Latin American flavour.
Veronica's Place - excellent vegetarian and vegan food
Pan Pay - popular breakfast spot on the beachfront
Best Dish
Cadado
Shopping
There is no large shopping centre but a cluster of stalls is available at the cruise ship terminal and at an open air market in the centre of town. Most shops in town sell primarily to locals rather than tourists; however, some sell locally made crafts with a friendly and less aggressive sales style than most tourist markets.
Best Buy
Wood Carvings
Excursions
Enjoy a lesson at the Totem Surf School
Take the conservation tour at the Iguana Verde Foundation
Visit Puerto Viejo
Snorkel above coral at Manzanillo Beach
Become our Costa Rica Travel Expert
We are looking for contributors for our Costa Rica travel guide. If you are a local, a regular traveller to Costa Rica or a travel professional with time to contribute and answer occasional forum questions, please contact us.