Regions
Ports of Call

---
Introducing Cyprus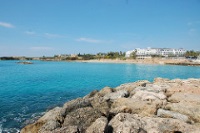 Cyprus © Krzysztof Belczynski
Cyprus Travel Guide
For its size, the fact that Cyprus receives over two million annual visitors is a telling statistic - hard evidence of its considerable charms as a Mediterranean holiday destination. A brief overview of the island's major attractions reveals an incredible range and diversity of tourist sights and activities, from sun-soaked beaches and top-class resorts, to impressive ancient ruins and fun, bustling cities with a distinct traditional flavour.
Although Nicosia remains the only divided capital in the world, the UN-enforced 'Green Line' has worked to keep tensions between the Greek and Turkish sectors of the population below boiling-point; and tourists should have no qualms about visiting this richly rewarding country.
A holiday itinerary for Cyprus could take several different forms, and all of them would be winners. Those eager to experience the ancient culture of the island and to drink in its wealth of historical sites should start with Ancient Kourion, a Greco-Roman amphitheatre famous for its astounding mosaics; before continuing on to Ancient Salamis and the Cyprian Acropolis in Paphos. The Old Town section of Nicosia - a UNESCO World Heritage Site filled with picturesque 16th-century architecture (including the revitalised baths of Hamam Omerye) - is also well worth exploring.
Cyprus is also a world-famous beach and winter sun vacation destination, and many visitors spend the duration of their holidays in blissful relaxation on the Mediterranean's golden shores. The area of Paphos is especially ideal for tourists looking for a relaxing beach holiday, offering a range of accommodation and dining options within easy walking distance of the pretty beachfront area. The resort town of Protaras is excellent for swimming and offers a wide range of water sport opportunities, and is also home to the island's best beach in the form of Fig Tree Bay; while Ayia Napa, another resort, is known around the world for its wild parties and throbbing nightlife.
Best time to visit
Cyprus boasts an annual average of 330 sunshine days and this idyllic weather ensures it can be visited at any time of year. Summer is the high tourist season, but the island is also popular between November and January, as many visitors seek out winter sun vacations in Cyprus. Read more on Cyprus' Climate and Weather.
What to see in Cyprus
-Nicosia's Old Town district is a UNESCO World Heritage Site, and a wonderful place to wander around with your camera.
-The archaeological site of Ancient Kourin, located outside Limassol, offers visitors a fascinating glimpse into the island's history.
-The creepy Agia Solomoni Catacombs in Cato Paphos are intriguing.
-Paphos' Tombs of the Kings is an impressive underground catacomb complex dating back over 2,000 years. Read more about Cyprus Attractions.
What to do in Cyprus
-Try your hand at some water sports in Protaras, a popular and family resort on Cyprus' southern coast.
-Discover the sleepy village of Agarka (just north of Paphos), a quaint enclave untouched by mass tourism.
-Head to the Troodos Mountains, offering excellent hiking trails for visitors who wish to explore the Cyprian countryside.
-Take a romantic swim at the Baths of Aphrodite near Paphos.
Holiday resorts in Cyprus
Cyprus has many popular resorts for sun-seekers looking for the perfect beach holiday. Each resort has its own character, varying from lively nightlife to laidback and secluded, from single's heaven to family-friendly holiday. Find your perfect Cyprus holiday resort here.
Getting to Cyprus
There are direct cheap flights to Cyprus available from a variety of British airports. American visitors will have to take an indirect flight to Cyprus. Budget-conscious travellers should note that several low-cost European carriers offer cheap flights to Larnaca Airport in Cyprus. Get more information on Cyprus Airports.
Read
Bitter Lemons by Lawrence Durrell and Tetralogy of the Times: Stories of Cyprus by G. Philippou Pierides.
Watch
The High Bright Sun (1964) and Under the Stars (2001).
Drink
Commandaria (a sweet dessert wine) and lots of lots of strong, delicious Cypriot coffee.
Eat
Popular spreads taramosalata (made from roe) and tahini (made from sesame seeds), as well as the island's speciality cheese, halloumi.
What to buy
Beaded jewellery, delicate lacework (especially from the village of Lefkara), leather items and Cyprian wine.
What to pack
Pack comfortable walking shoes, as many of the island's best archaeological sites are quite large, and the ruins are quite spread out.
What's on in Cyprus
The Ayia Napa International Festival is a colourful folk festival greatly enjoyed by Cypriots each September. The Limassol Carnival (February/March) turns the city into a veritable fairground for two weeks of the year, as mandolin-playing minstrels take to the streets and parades, balls and fancy dress competitions occur daily. The Ancient Greek Drama Festival (June to August) offers visitors the rare chance of seeing ancient Greek theatre being performed in an ancient Greek amphitheatre.
Did you know?
-Archaeological evidence dates the first human settlement on Cyprus as far back as 8,000 BC.
-The Mufflon is a kind of wild sheep that is found in the Troodos and Paphos mountains, and nowhere else in the world.
-During the Copper and Bronze Ages, Cyprus was the wealthiest nation in the world.
-Cyprus is thought to be the first country ever governed by a Christian.
A final word
Cyprus is commonly referred to as the 'playground of the gods', but mere mortals will find plenty to keep themselves entertained on this glorious sun-soaked island.
Become our Cyprus Travel Expert
We are looking for contributors for our Cyprus travel guide. If you are a local, a regular traveller to Cyprus or a travel professional with time to contribute and answer occasional forum questions, please contact us.