Cities
Introducing Ethiopia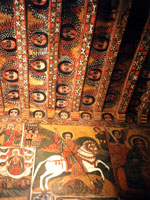 Interior of the church of Debre Berhan Selassie © Judith Duk
First-time visitors to Ethiopia are generally amazed by the stunning natural beauty of a country that is also incredibly rich in culture and history. The striking diversity of landscapes, ancient traditions, and people leave a lasting impression to challenge the misleading stereotype of a land stricken by years of drought and famine.
Ethiopia can boast being the only country in Africa that wasn't colonised, having defeated and expelled the Italians after a mere five years of occupation. Ethiopia has emerged into the present day as a fiercely independent and proud country, and one in which Islam and Christianity coexist in relative harmony.
Brimming with contrasts and extremes, Ethiopia beckons visitors to explore from the tops of its highlands, where mountains soar over 14,100 feet (4,300 metres), to the depths of the Danakil Depression situated below sea level.
Discovering Abyssinian culture and traditions that date back over 3,000 years is incredibly exciting and it is possible to experience ancient Islamic folklore, as well as the fascinating rituals and sacred ceremonies of the Ethiopian Orthodox Church.
The capital, Addis Ababa (meaning 'New Flower' in Amharic) is home to the more modern problems of urban migration. Addis Ababa can be a difficult place to navigate, but anyone with a desire to learn more about Ethiopian culture would be remiss not to spend more time in this complex city.
The north of Ethiopia is the most attractive region from an historical and a natural point of view. The Historic Route winds through the medieval wonders of the country, including the ancient cities of Gondar and Axum, as well as the breath-taking Lalibela churches, hewn into rock. The north also boasts the lofty Simien Mountains National Park, encompassing the fourth highest peak on the continent, and providing fantastic hiking opportunities and a variety of wildlife.
Bahar Dar, situated on Lake Tana, is popular as a base from which to explore the intriguing monasteries built on the many islands scattered about the lake, as well as the Blue Nile Falls, which are arguably the most impressive falls in North Africa.
The south of Ethiopia, on the other hand, is the heartland of some of the surviving tribal cultures, with villagers living much as they have for centuries. There are fewer awe-inspiring ancient sites and the game reserves and tribal enclaves draw adventurous travellers.
Ethiopia was once overlooked as a tourist destination, but the country's unique attractions are taking pride of place in northeast Africa, and today the oldest independent nation on the continent welcomes visitors to experience its long proud history and abundance of stunning scenery.
Our Travel Expert
Muluken Girma is a professional tour organiser and guide born and raised in Addis Ababa. He has studied Tour Operations Management at the Catering and Tourism Training Institute of Addis Ababa in March 2004. Since then, he has been successfully organising group and individual customised tours all over Ethiopia.
One of his recent achievements is being selected as one of the Top 100 Tour Guides in the World in 2016 and 2017, and best tour guide in Addis Ababa by
www.TourHQ.com
.
>Read Muluken's tips on Ethiopia
>Ask Muluken a question
---
Become our Ethiopia Travel Expert
We are looking for contributors for our Ethiopia travel guide. If you are a local, a regular traveller to Ethiopia or a travel professional with time to contribute and answer occasional forum questions, please contact us.
---