Cities

hide Cities
Regions

show more Regions
Ski Resorts

---

---

---

---

---

show more Ski Resorts
Ports of Call

---
Marseille Port of Call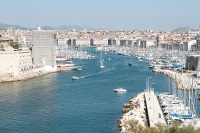 Vieux Port, Marseilles © Georges Seguin
Marseille is a spicy, ancient and exotic French city that has served as a port for more than two thousand years. For cruisers it is the gateway to Provence and the many charms offered by the south of France. Marseille's main drawcard is Vieux Port - a picturesque old port, dotted with fishing boats and pleasure craft, and ringed with boutiques, restaurants and the diverse people that make up this fascinating cultural melting pot.
Cruise ships dock at the Place de la Joliette, known as La Port Autonome de Marseille. The terminal has all the amenities and comforts passengers could want, including shops, transport links and tourist information. The area around the terminal has an industrial character and is of little interest to passengers.
---
Contact
Marseille Tourist Office
11 la Canebière, 13001 Marseille
Tel: +33 (0) 826 500 500
Transport
The port is only a 20-minute walk from town, but walking is not recommended. Rather, catch the metro from Joliette station outside the terminal or hail an awaiting taxi. There is also a shuttle service to and from Vieux Port although this is irregular. Once in town, visitors can happily explore the Vieux Port area on foot.
Attractions
The Vieux Port area is filled with worthwhile sites and can easily occupy a full day. Nearby Fort Saint-Jean is also worth a visit, and the beach is excellent. See the ancient Basilique St-Victor and the splendid interior of the 19th-century Cathedrale de la Major. Climb the hill to Notre-Dame-de-la-Garde which provides great views and photographic opportunities.
Restaurants
Chez Toinou - fresh seafood on a pretty outdoor terrace
L'Epuisette - great seafood from a scenic rocky promontory
Restaurant Femina - cosy Moroccan restaurant with large portions
Best Dish
bouillabaisse, invented and perfected in Marseille
Shopping
Some of the best and most varied shopping in Marseille can be done around the old port. Visitors can find antiques, art work, lots of maritime gear and sailor garb, plus smaller souvenirs like santons (wooden figurines). Head to the car-free St-Fereol street and fashion epicenter Cours Julien for more upmarket shopping. The mega mall L'Escale Borély is about 25 minutes away by metro.
Best Buy
Provencal-style ceramic plates
Excursions
Take a day trip to Avignon and Chateau-Neuf-du-Pape
Visit Aix-en-Provence for charming fountains and squares
Pilgrimage to Arles where Vincent can Gogh lived and worked
Hop on a boat to the island of Chateau d'If
Walk up the hill to Notre-Dame-de-la-Garde and take photos of the city
Our Travel Expert
Patrick is a French citizen, currently living in the Lorraine region of northeast France, between Metz and Nancy. He was born in Verdun and has travelled extensively in France.
>Read Patrick's tips on France
>Ask Patrick a question
---
Become our France Travel Expert
We are looking for contributors for our France travel guide. If you are a local, a regular traveller to France or a travel professional with time to contribute and answer occasional forum questions, please contact us.
---