Introducing Georgia Republic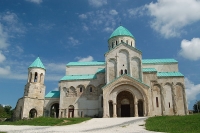 Bagrati Cathedral, Georgia Republic © Halaston
The Georgian Republic is fast becoming a popular tourist hub. Visitors can look forward to vast mountain ranges with superb walking, skiing and snowboarding opportunities, a magnificent coastline, immense architectural and archaeological wealth, and a modern capital that shows off contemporary Georgian culture.
The country lies between the Black and Caspian seas, and has had inhabitants since the Stone Age. History lovers should note that the ancient world's busiest trade route, the Silk Road, ran through Georgia, enriching the region both culturally and economically.
Against that, the country's transcontinental location exposed it to invasion throughout the centuries, with Persians, Romans, Arab Caliphs and Mongols occupying it at various times. This turbulent history is best seen in Georgia's impressive archaeological ruins, some dating back to the 5th century BC. Its impressive churches and fortresses are worth seeing too.
Having gained independence from the Soviet Union in 1991, Georgia has only recently embraced its potential as a tourist destination. Known for their sincere hospitality, locals do their best to make visitors feel welcome. Often guests are invited to dine at residents' homes to partake in the supra tradition. Essentially, it's a sampling of the local cuisine, which blends of Asian, Middle Eastern, Mediterranean, Persian and European flavours. Such occasions are marked by toasts of wine, reflecting Georgia's 3,000 year-old viticultural heritage.
The capital, Tbilisi, was named after the area's warm springs, and has a distinct Mediterranean atmosphere. Travellers can wander the winding narrow streets and indulge in the café culture, and visit some of the finest museums and art galleries in the region. They can also enjoy the theatre and Turkish baths. Located at the other end of this small country, the warm Black Sea invites travellers to discover its more isolated beaches and visit the many local markets, which spill over with fresh produce from the area's lemon, orange and banana groves.
Become our Georgia Republic Travel Expert
We are looking for contributors for our Georgia Republic travel guide. If you are a local, a regular traveller to Georgia Republic or a travel professional with time to contribute and answer occasional forum questions, please contact us.
Intrepid Travel is one of the world's leading suppliers of small group adventures focused on getting off the beaten track and having real life experiences in Georgia.
ADVERTISEMENT
---