Cities
Regions

show more Regions
Resorts

---

---

---

---

---

show more Resorts
Athens (Piraeus) Port of Call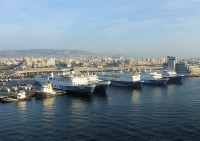 Port of Athens © Robert Cutts
Athens is a mandatory stop-over on most Mediterranean cruise itineraries, containing some of Europe's great sights and wonderful year-round weather. The city is bustling, gritty and chaotic, and consequently not to everyone's liking. The key to enjoying the experience is to outsource the driving to a guide, and to read up as much about Greek history as you can to make the historical sites come alive.
Cruise ships dock at Megas Limani harbour within the Port of Piraeus, located seven miles (11km) from central Athens. Be wary of pickpockets around the port area. Shuttle buses take passengers from the berths to the international terminal. There one can find shops, tourist information, and a metro connection to central Athens.
---
Contact
Tel: 210 4550229
Transport
The international passenger terminal connects directly to Metro Line 1 which feeds into the centre of Athens. Those intending to do some sightseeing should consider buying a 24-hour metro/bus pass. Metered taxis are also plentiful - it is essential to agree on a fee in advance though. Both options are preferable to walking through the grungy suburbs of Piraeus.
Attractions
Piraeus is not really worth exploring, although the Archaeological Museum of Piraeus, close to the harbour, is well worth a visit, with an excellent cross-section of the area's millennia of history. Then grab a taxi and head into Athens itself where you can visit several outstanding attractions on a single busy day-trip: the Parthenon atop the Acropolis, old town Plaka, Constitution Square and the ancient Agora are all splendid.
Restaurants
Daphne's - celebrated Greek restaurant in the centre of Athens
Vlassis - take your cue from the locals who flock here for the souvlaki
Spondi - by consensus the best restaurant in Greece
Best Dish
Dolmadakia (meat or rice rolled in grapevine leaves)
Shopping
There is a decent open-air market in Piraeus, but most cruise visitors head to the more picturesque Plaka District where every worthy shop and Greek souvenir can be found. Be warned that many shops close for siesta sometime between 1pm and 5pm on weekdays, and all day on Sundays. The flea market in Monastiraki is well worth a visit as is the Central Market whic presents a vibrant glimpse into authentic Athens life.
Best Buy
Olive oil, ouzo, leather items
Excursions
Take a sightseeing tour of the city and avoid navigating the traffic yourself
Enjoy a half-day trip to Delphi and catch some wisdom from the Oracle
Sip ouzo and try mezedes on Constitution Square
Become our Greece Travel Expert
We are looking for contributors for our Greece travel guide. If you are a local, a regular traveller to Greece or a travel professional with time to contribute and answer occasional forum questions, please contact us.