Cities
Regions

show more Regions
Resorts

---

---

---

---

---

show more Resorts
Patmos Port of Call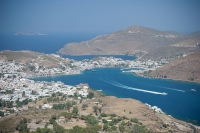 Patmos © kellinahandbasket
The northernmost island in the Dodecanese Archipelago, the small island of Patmos is a popular port of call for cruise ships in the Mediterranean.
While many towns in Greece boast the ruins of temples dedicated to gods like Zeus and Hera, Patmos is steeped in Christian mythology and home to some 300 churches, monasteries and convents. The island is thought to be the home of the Apostle John, where he spent several years in exile and wrote what would become the Book of Revelations.
Patmos offers many diversions for cruise passengers, including pleasant beaches, restaurants and tavernas, shops and lovely scenery. Not on the main route for land-based tourists in Greece, the island has retained its unspoiled charm while remaining welcoming to cruise ship passengers. Visitors should take note, however, that the water in Patmos is not drinkable and it is best to stick to bottled water.
Cruise ships in Patmos dock in Skala harbour.
---
Contact
Skala Tourism Office
+30 22470 31666
Transport
There is limited bus service to several towns on Patmos, including Skala, Hora, Grikos, and Kambos. Because the island is so small, taxis are the best and quickest way to get around, or you can hire a moped at the harbour.
Attractions
For a small island, Patmos has many UNESCO-listed attractions. The Cave of the Apocalypse, so named because the Apostle John had visions there that inspired the Book of Revelations, is a popular tourist attraction for cruise passengers; another is the monastery in Skala named for the same saint. The medieval town of Hora makes for a pleasant afternoon, with winding streets filled with whitewashed houses and more than 300 orthodox churches.
Restaurants
Vegghera - delicious and filling meals right on the marina
Benetos - Mediterranean food with waterfront views
Taverna Leonidas - popular tavern in Lambi Bay
Best Dish
Saganaki
Shopping
Prices in Patmos are a bit higher than most of Greece because everything (including drinking water) must be imported. That said, there are several excellent jewellery shops, and several selling handmade art and crafts around the harbour and in Hora.
Best Buy
Hand-painted icons
Excursions
Explore the Cave of the Apocalypse
Visit the Monastery of St. John
Take a trip to the medieval town of Hora
Sun and swim on the beach near the harbour
Become our Greece Travel Expert
We are looking for contributors for our Greece travel guide. If you are a local, a regular traveller to Greece or a travel professional with time to contribute and answer occasional forum questions, please contact us.