Introducing Grenada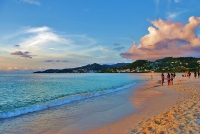 Grand Anse Beach, Grenada © Varun Kapoor
Born from the seafloor in a sequence of violent volcanic eruptions, Grenada is a tropical, three-island state, 90 miles (145km) north of Venezuela. Part of the Lesser Antilles chain, the country consists of the main island of Grenada and its neighbouring constituencies, Carriacou and Petite Martinique.
Boasting lush soils and a rolling mountainous interior, breathtaking waterfalls gush down from the centre to meet the sea and hikes through verdant jungle make for a truly memorable Grenada nature experience. Couple that with unblemished beaches reminiscent of those found in glossy travel magazines, billowing sails criss-crossing an azure coastline, a low-key lifestyle and unrivalled diving sites such as the wreck of the Bianca C and you've got one of the most overlooked tropical havens in the Caribbean.
Heady fragrances of nutmeg and clove and a warm-hearted reception greet visitors to the friendly capital of the 'Spice Island', St. George's. The red tiled roofs, Georgian architecture and central spice market make it one of the Caribbean's most charming centres, complemented by a picturesque natural harbour. Sun-worshippers can choose from 45 beautiful beaches, the most popular being the two-mile (3km) long Grand Anse Beach, or seek out one of the many secluded beaches a little further afield.
Initially inhabited by Kalinago settlers from the Amazonian basin in South America, Grenada later became an unwilling station of European expansion, the effects of which are evident in the people, architecture and cuisine of the modern nation. First invaded by the Spanish in violent slave raids, the resident Kalinago were then largely wiped out by French colonialists who exploited the land for large-scale sugar cane plantations and brought slaves in from West Africa to work them. Britain succeeded France and only in 1974 did Grenada gain independence from the British.
Grenada is a poor country but the friendly disposition of the locals, the vibrant afro-carib culture, joyful calypso music and dancing tradition, and the picturesque tropical location more than make up for the lack of infrastructure. Grenada has long been a favourite port of call for yachties, divers and holidaymakers alike, offering some of the best scuba diving in the Caribbean, with coral gardens, an underwater volcano and the largest underwater shipwreck in the region, not to mention the alluring homemade Caribbean cuisine and lip smacking seafood.
Become our Grenada Travel Expert
We are looking for contributors for our Grenada travel guide. If you are a local, a regular traveller to Grenada or a travel professional with time to contribute and answer occasional forum questions, please contact us.