Introducing Honduras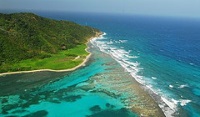 Honduras © Denise Clarke
Honduras exudes an air of paradise through its exotic palm-fringed beaches, clear turquoise waters, verdant jungles, majestic mountains, and beguiling Mayan ruins. Its laidback way of life and relative obscurity to the tourist market make it the ideal holiday for travellers who enjoy leaving the beaten track. Adventurous nature lovers will enjoy this unspoilt destination, where river rafting, mountain trekking and affordable scuba diving are all on offer.
Toucans pose alongside orchids in the humid cloud forests and mountains, while banana plantations cover the rest of the country. Indeed, Honduras is famous for its banana cake, banana pancakes, fried plantain, and banana chips. Many ancient Mayan and Lenca ruins can be found hidden away from civilisation in lush jungle landscapes, ready to enchant the most seasoned of travellers. One of the country's most breath-taking Mayan archaeological sites is the Copan Ruins. The UNESCO World Heritage Site is set in a verdant valley in the far western region of Honduras.
In contrast to its wild natural beauty, Honduras has many cities where travellers will find modern amenities. Tegucigalpa, San Pedro Sula, and La Ceiba are among them. Colonial towns like Gracias and Comayagua have wonderful examples of Spanish architecture, including forts and castles.
The once-thriving port of Trujillo has an intriguing pirate history and exquisite tropical beaches, while the region known as the Mosquito Coast is the largest tract of tropical rainforest north of the Amazon. The country also boasts Caribbean white sand beaches, while offshore Bay Islands such as Utila, Roatan, and Guanaja are a treat for divers and snorkelers.
Become our Honduras Travel Expert
We are looking for contributors for our Honduras travel guide. If you are a local, a regular traveller to Honduras or a travel professional with time to contribute and answer occasional forum questions, please contact us.
Intrepid Travel is one of the world's leading suppliers of small group adventures focused on getting off the beaten track and having real life experiences in Honduras.
ADVERTISEMENT
---